User:Ac001/Runway Tutorial
Jump to navigation
Jump to search
Work in progress
Orientation
The map below shows the three tarmac/pavements and six runways at EDDF Frankfurt.
Runways (RWY) are numbered between 01 and 36 to indicate their magnetic heading (to nearest 10th degree).
RWY 36 points north, 18 points south and 07 points NW.
A runway can be used in both directions and therefore two names, eg RWY 18/36.
If there are two or more runways, then L, C and R are appended for Left, Center, Right, eg 07L/25R.
EGLL: 09L/27R
The diagram shows the detail of the northern runway at Heathrow EGLL 09L/27R

The DME (top center) is the location of the DME transmitter and is placed around half way down the runway.
Below is the label indicating the RWY length, 3901M long and 50m wide and is designed to facilitate huge/heavy/fast aircraft, as well as small ones.
The lines of the center line are at ?m intervals
Below the red T, are the green lights of the "threshold", a point at which aircraft are to land or take off after. 09L is a displaced threshold as its further onto the tarmac and a blast zone.
Under the red P on both sides are the PAPI lights next to the "touch down zone", a point past the threshold and the safe landing area.
TODO - elevation description
TODO The lead in lights and the ILS position TODO
27R
Below is the Google map view of 27R threshold.
Tis the threshold
Above the vertical purple lines are the "lead in lights", and these stretch at 25 intervals over a motorway, football pitch and a light industrial area.
The ILS system is clearly visible

The image below is an aircraft fly-by of the northern runway 27R (right entry above)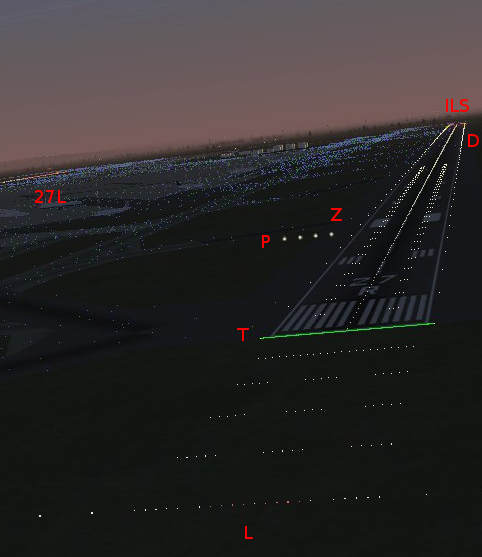 27R is clearly marked on the runway tarmac in foreground.

The parallel 27L (09R threshold) is visible top left.

T is the runway threshold and green lights. From the opposite side IE 09L these appear as red.
The ILS localiser is positioned the other end of the runway near 09L threshold and red lights.
D is the approx position of the DME transmitter halfway down the runway.
The P are the PAPI lights, aircraft is high for fly-by.
The Z is the target "touch down zone"
09L
The image below is a fly-by near the 09L threshold, a few moment after above (exiting to the left above)
9L is clearly marked on the runway for approaching aircraft
The Threshold is marked with "red lights" and from the other side and landing, these are green.
The threshold is "displaced" from the end of the actual tarmac and a line-up/blast zone.
The ILS system is beyond the tarmac, the red/white colored box.
A taxi way is visible leading to or from the runway.