Leipzig/Halle Airport
Jump to navigation
Jump to search
Leipzig/Halle Airport



New layout (development 2014)




DHL area (development 2014)

Type
Public
Owner
Mitteldeutsche Airport Holding
City
Between Leipzig and Halle
website

Runways
Runway
Length
Material
08L/26R
11,811 ft
Concrete
08R/26L
11,811 ft
Concrete

Scenery tile
e012n51
TerraSync
published
Download

Leipzig/Halle Airport is located in Schkeuditz, Saxony and serves both Leipzig, Saxony and Halle, Saxony-Anhalt, Germany. In Flightgear this airport was published on TerraSync in 2010 und updated due to new developments 2012. In 2014 according to the new world scenery a complete overhaul started. EDDP is also the centre of Leipzig/Halle airspace, which provides air traffic control also for the regional airfield Leipzig-Altenburg Airport.
Note

  Users are asked to test the beta Version of the new 850-Layout (see #Download_via_GIT)
Flying at Leipzig/Halle airspace
Charts
All diagrams and charts are available for download.
Runways and ILS
Runway 08L/26R
The northern runway is 3600m long with a width of 45m. In real life its usually used by passenger airliners. In Flightgear this runway is equipped with Outer Marker and Middle Marker and offers best conditions for low visibility operations.
ILS-CAT-III 08L (083°): 108.55
ILS-CAT-III 26R (263°): 108.35
Runway 08R/26L
The southern runway is 3600m long with a width of 60m. In real life its mostly used by freighters due to its proximity to freight areas (Apron 2 and 4). It has no Outer Marker an no Middle Marker.
ILS-CAT-III 08R (083°): 111.90 (111.75 in FG older than Version 2.0.0)
ILS-CAT-III 26L (263°): 110.30
ATC
Leipzig Ground - frequency 121.800
Leipzig Tower - frequency 121.100
Leipzig/Halle Airport is regularly served by Air Traffic Control (ATC).
Infrastructure
Connected by terminal C and three taxiway bridges (W1, E7, E8) the airport layout combines the northern part with runway 08L/26L and Apron 3 (new cargo area since 2012) and the southern part with Apron 1 (terminal B), runway 08R/26L, Apron 2, Apron 4 (DHL), Apron 5. Between both parts an airport railway station and the autobahn A14 is connecting to the check-in area of terminal C. Railway and motorway are not modelled in Flightgear.
Access and connection
Terminal C
In August 2012 the completely new modelled terminal C was published on TerraSync. It is built as a connection between the check-in building with car-park and train station in the north and the departure area at terminal B in the south. Due to this efforts it stands on piers like a long bridge from apron 1 to apron 3, crossing different car-parks, a rail-track and the autobahn. On the one hand the FlighGear model tries to give the airport a well designed model with highly detailed structures, but on the other hand it was programmed as simple as possible to save visitors simulation performance.
Taxiway bridges
A highway and railway lines go straight between the two runways. Three bridges connect the terminal with the northern runway. The western bridge (taxiway W1) is used in both directions. The eastern bridges (taxiways E7 and E8) are used as one way taxiways. Due to safety improvements all bridges are equipped with special taxi lights.
Due to changes in the TerraData the bridges had to be repositioned in 2012.
Apron 1
The main apron at Leipzig/Halle Airport is located in the middle of the airport. It houses the commercial aviation area at terminal B in the west and the general aviation area in the eastern part. It is connected by taxiways L, N and W1.
Terminal B
Real world:
This building is the main terminal for most commercial flights at EDDP. It is connected to terminal C in the north and provides the passenger transfer to Apron 1 via 6 gateways. It also has a connection to the luggage terminal.
Scenery in TerraSync: In Flightgear the main terminal is modelled very slim and efficiently. 6 unmovable gateways link to park positions 126, 128, 130, 132, 134 and 136. In 2012 it will be improved. Since September 2012 it has been equipped with a non-animated VDGS.
Luggage terminal
This building was first published in 2004 and remodelled by Thomas Großberger in 2012. The terminal is connected via the old tower next to it to terminal A by a tube, which is used to transport luggage between the checkin- and arrival-area and Apron 1. Both. the connection and the old tower building will be modelled in 2013. The new luggage terminal in FlightGear is offering:
realistic roof design
simplified but detailed interior
6 clock controlled automatic gates
complex light design (Rembrandt-Design outstanding)
GAT
Apron 2
Apron 3
This Apron in real life went into service with a new cargo hangar in 2012. In Flightgear it is still closed. The corresponding facilities are still under development.
Apron 4/5 (DHL-area)
Real world: Leipzig/Halle is just a small international airport. But in 2008 it became the European DHL hub with up to 60 planes per night. The DHL Hub Leipzig GmbH, place of business in Schkeuditz, is running under contract to the logistic group DHL at Leipzig/Halle Airport one of six international aviation hubs. In order to provide maintenance to the new fleet the European Air Transport Leipzig GmbH was founded. European Air Transport operates services to Europe, Middle East and Africa. 56 countries are covered in total. A second aviation company, called AeroLogic, was founded in EDDP. AeroLogic GmbH, a joint-venture between DHL Express and Lufthansa Cargo, is a German cargo airline headquartered in Schkeuditz, Saxony. It operates cargo flights out of Leipzig/Halle Airport and Frankfurt, most of which are on behalf of its parent companies.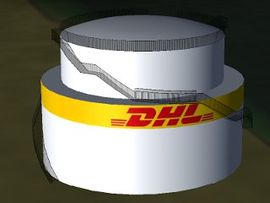 Scenery in TerraSync: The hub (warehouse, hangar and aprons) is modelled in the scenery. In 2012 its redesign for TerraSync started. First all lampposts at apron 4 had been replaced with those which fit into the correct layout of every single parking position. Afterwards lots of goods and ground vehicles where placed. As soon as some missing storage buildings are modelled, the new content of apron 4 will be published on TerraSync. Last modifications will take place when the new 850-standard layout of EDDP will be created in the future.
DHL-hub at EDDP in Flightgear: Leipzig/Halle Airport offers ground space for more than 70 Boeing 757-PF or up to 50 777F as well as space for 10 An-124 at Apron 2, 4 and 5. Airmail flights can be flown from and to EDDP. One of the middle sized and highly connected hubs of DHL, the Orio al Serio Airport (Italy) is also modelled in FlightGear and can be used for realistic flights out of Leipzig/Halle Airport. In FlighGear apron 4 is equipped with all stands. Additionally to the main apron lightning each stand has one centred lamppost, which will be replaced by a VDGS-signs in the future. Ground markings will come with the new 850-layout. The major storage buildings from DHL are modelled as well as three DHL-tanks south from apron 4.
De-icing areas
Leipzig/Halle Airport has four special areas, two in the north at taxiway C and two in the south at taxiway N. In FlightGear only the two areas at taxiway C are build into the layout. In 2012 both areas had been equipped with shared models like lampposts, buildings and ground lights.
De-icing area 2 - multiplayer ready
Based on the Zurich type model "Elephant" - originally modelled by Oliver Thurau - an improved version with full multiplayer support is under development. This version isn't only adapted to the special efforts at EDDP, but its also designed to be controlled by ATC. It will be published via TerraSync in November 2014.
Surroundings and "Other"
Kursdorf - the village within the airport
There is a village right in middle of the airport. So it's no surprise the number of inhabitants is shrinking each year. Once a thriving village with 537 inhabitants in 1950, they were down to 119 in 2006 (Wikipedia). It might be a little loud with the two runways, highway and express railways, but the transport links, hey ... The village is modelled in the scenery.
Scenery
Authors:

Models: David G., D-STHO
Airport layout: Christian Schmitt
Additional models: Don Lavelle, Alex Park, Robert Shearman
Redesigning & Development 2012: August, D-STHO
Download via GIT
With FlightGear 3.0 a new world scenery was published, including a new but incorrect 850-layout for EDDP. Developers started a huge overhaul of the EDDP scenery in April 2014. First a new taxiway layout was programmed. Additionally all buildings and objects are replaced. Some models will be remodelled, others will be added. Due to the fact that airport layouts can't be simply updated via TerraSync in a short way, pilots are asked to use the new EDDP CUSTOM SCENERY as long as things aren't updated at TerraSync.
always get the newest development version automatically:
 git clone https://gitorious.org/eddp-custom-scenery/eddp-custom-scenery.git

Download via TerraSync
TerraSync has it all! There is no custom scenery existing (only the GIT-repository for testing the new 850-layout before publishing it). The authors believe on the advantages of TerraSync which makes it easy for every user to have the latest scenery installed automatically. Updates are published regularly via TerraSync.
Next update in <daysuntil in="days">12-August-2014</daysuntil>
Latest update on TerraSync:

2014-04-29 Objects adapted to new (but incorrect) 850-layout
Last five updates:

2013-04-21 Rembrandt lights at apron 1
2013-02-13 new Messeturm at final approach area of runway 26R
2012-12-21 new luggage terminal at apron 1
2012-10-22 three new DHL-tanks placed at DHL-area
2012-09-20 new VisualGuidingDockingSystem at terminal B
Development
Since the Scenery had been modelled by D-79 in 2010, D-STHO and August started enhancements and redesigning in 2012. In 2014 development of a new 850-layout started. Improvements are made on the following objects:
Layout

Taxiway bridges: new Position, improved lightning (published 07/2012)
New 850-standard: new Layout with all parking positions and improved taxiways (see #Download_via_GIT)
Scenery (Shared Models)

Airport lightning: more than 80 lampposts (EDDM-model) on Apron 1 and 4 and both northern de-icing areas (published 07/2012)
DHL-tanks at apron 4 (published 10/2012)
Ground traffic: lots of goods and vehicles (shared) make apron 1 and 4 much more realistic (published 08/2012)
Flora and boundaries: Trees and fences on Apron 1, 2 and 4 are added (published 08/2012)
New shared ground vehicles
New shared Unit Load Devices (ULD)
Village and industrial surroundings: Kursdorf within the airport and industrial areas around are created with shared models (published 04/2010)
Buildings and infrastructure (Static models)

Cargo-hangar apron 3 (planned)
Cargo-center apron 2 (published 2010)
DHL-hangar (published 2010)
DHL-terminal (published 2010)
Interactive DE-ICING areas (Multiplayer supported)
Interactive luggage dolly traffic between terminal B and lugage terminal (planned)
Luggage terminal (published 12/2012)
Storage buildings at DHL-area (pre-development)
Terminal B (published 04/2010)
Terminal C (published 08/2012)
Tower (published 2010)
Turbo engine hall (pre-development)
Old Tower next to terminal B (pre-development)
Visual Docking Guiding System at Apron 4 (planned)
Visual Docking Guiding System at Terminal B (published 09/2012)
Visual Docking Guiding System: replacement with animated interactive version (planned)
Rembrandt lightning improvements
Converting Lightning to Rembrandt
Converting Buildings to Rembrandt Lightning
Lampposts in EDDP-style (planned)
Buildings at the city of Leipzig (Static models)

City-Hochhaus
Wintergartenhochhaus (published 02/2013)
Völkerschlachtdenkmal (Battle of Nations Monument)
Red-Bull Arena
Gondwanaland (tropical zoo) (published 02/2013)
DVB-T-Tower (published 02/2013)
Messeturm Leipzig (published 02/2013)
Hauptbahnhof (Central Station) (planned)
Scenery since 2014
Scenery since 2012
Scenery since 2010
Here is a selection of the models. YouTube video 2010.
Related content
External links