FlightGear Newsletter November 2012
Jump to navigation
Jump to search
We would like to emphasize that the monthly newsletter can not live without the contributions of FlightGear users and developers. Everyone with a wiki account (free to register) can edit the newsletter and every contribution is welcome. So if you know about any FlightGear related news or projects such as for example updated scenery or aircraft, please do feel invited to add such news to the newsletter. Core developers are encouraged to add news about their latest work to the newsletter's development section and the changelog of the upcoming release.
Release preparations
The next FlightGear version will be released around February 17, 2013. In order to provide a stable and smooth release we've set up a release plan. We keep you up to date with our current state through various channels, including the mailing list, forum
and Facebook page.
Coming December 17, our Git repository will be declared "frozen". This means that no new features or major changes shall be pushed. This period is for preparing the code for the release and make sure there are no major issues. It lasts for four weeks until creation of the release branches (January 17).
Aircraft in fgdata may be handled as an exception from the frozen state. Any change to aircraft may be pushed to the repository if it is guaranteed that this change does not affect any other aircraft or system and if no file outside the root directory of that specific aircraft is changed. Aircraft defined as part of the base package (e.g. the c172p) enter the frozen state and shall not undergo major changes in the upcoming period.
Keep in mind that the people that are able to commit your stuff are just as busy finishing their own work as you are! Therefore it is important that you create merge requests for everything that you'd like to see included in the upcoming release, as soon as possible. This includes new aircraft and updates to existing aircraft. This will also give everyone more time to check for bugs.
Translators required
| | |
| --- | --- |
| | The FlightGear Wiki still needs help for translating it into various languages. If you are interested in making the FlightGear Wiki multi-language then start at Help:Translate. |
| | Das FlightGear Wiki benötigt immer noch Hilfe bei der Übersetzung in verschiedene Sprachen. Wenn Du Interesse daran hast, das FlightGear Wiki Mehrsprachig zu machen, dann fang doch mit Help:Übersetzen an. |
| | De FlightGear Wiki kan nog steed hulp gebruiken bij het vertalen van artikelen. Als je interesse hebt om de wiki meertalig te maken, raden we je aan om een kijkje te nemen bij Help:Vertalen. |
| | La FlightGear wiki todavía necesita ayuda para traducirla a varios lenguajes. Si estás interesado en hacer la FlightGear wiki multilingüe, entonces comienza en Help:Traducir. |
In the hangar
All the way back in May 2011, we addopted a new status-rating system for aircraft. So far, only a few have actually been rated, so please consider rating some aircraft. All you'll need to know/do is described at Formalizing Aircraft Status. If you'd just like to get started contributing to FlightGear, this would also seem like an excellent way to get started.
Updated aircraft
Mudry Cap10B
New update of the Cap10B by PAF team. Full Rembrandt compatibility (lights, transparency, 3D), full dual control (perfect for aerobatic learning), rating system, new texture, new shader...
Download available on PAF team hangar
Scenery corner
New TerraGear GUI version
The latest version of the TerraGear GUI, a graphical interface to generate scenery for FlightGear, includes a couple of striking improvements. A short overview:
It now uses the latest version of TerraGear. The so called "tg-construct" provides a quicker and more stable tool for complex scenery. Another improvement is the addition of textured lines, that can be used to correctly texture roads and railroads.
An OpenStreetMap map allows you to simply select an area on the map, without fiddling with coordinates and bounding boxes. This map is a very recent addition, so there are some issues to be solved, but the basic functionality works. A screenshot of the updated download page can be seen on the right.
The GUI will have some additional warnings, informing you about wrong settings and other problems.
More information and download links are available in the TerraGear GUI article or in the forum topic
. Please give it a try and report bugs or general feedback at the forum!
Suggested flights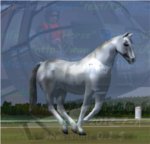 A proposal for funny flight experiences with The Lake of Constance Hangar awesome contributions.
Driving horses with helicopter
Yes, you've heard it clear. The lake of Constance Hangar run by D-MKF1 offers you the opportunity to drive a horse by helicopter, even ride on it through vastness of FlightGear.
For those whose pervade the vintage's way to fly, the radio finder navigation over MP will satisfy your dream to fly, live back into the golden years of aviation, flashback guarantied.
Just try the Dornier DO-X from the Lake of Constance Hangar with your friends over dual control. We recommend Saint Martin TNCM - Saint Barth's area.
Your mission is to fly the area, training pilot-copilot quick coordination, improve your visual orientation because once you are out of island visual range you'll need to be ready to use the radio finder as a real copilot. Our goal is that you'll improve your real nav skills, getting back to the roots of radio. The radio range - Direction Finder Navigation Age.
... Are you missing in the middle of the Caribbean Sea? follow the <Beep.. Beep....Beeep> audio signal in morse code of the selected radio station if it is in range. The more accurate your radio tuning operation, the more accurate will be your heading.
Do you know that radio propagation can also affect your radio range?
Have you tried it with a couple of aircraft on Mode42 - (Four friends two planes)?
No matter if you are 42, 15, 35, 60 or 91 years old. You must do it.
Long Life to the radio range for FlightGear.
Flying Banana Co. Container Stevedore
Searching for skilled pilots. The "Famous Flying Banana Co" air freighter need pilots for their annual banana's harvest campaign at the end of year.
Become a Bananaco pilot, your task is to move containers. You can use CH47, H-21C their famous flying bananas also called "Bananacos" a word that means Huge Bananas.
They'll pay well for your skills. Only FG pilots. Flying Banana Co. a company where freedom to fly matter, operates in Saint Barth's.
Ferry MP on a lake
So far to be a normal lake. We are in the epicenter of creativeness.
Everything can happen with the MP-LODI-TABOR Demo for "ferry" action on the "Lake of Constance", the last and funny adventure from The Lake of Constance Hangar
Community news
FSweekend 2012
For the seventh year in a row, a team of FlightGear developers represented FlightGeat at the largest annual flight simulator weekend in the world. FSweekend 2012 was another success.
FlightGear on YouTube
Review of Flightgear
A new FlightGear user Fblogged a review. Read it at Shallow Reviews.
And finally ...
A christmas present for you
Do not forget to pay a visit to the Gerbrandytoren in the Netherlands. With a height of 366.8m and 120 lights, it is the world's largest Christmas tree between December 11 and January 6. The tower is located 21 nm South East (HDG 120) of Amsterdam Airport Schiphol (location on MPMap) and accurately modeled in FlightGear, including the Christmas decoration!
Contributing
One of the regular thoughts expressed on the FlightGear forums is "I'd like to contribute but I don't know how to program, and I don't have the time". Unfortunately, there is a common mis-conception that contributing requires programming and lots of free time. In fact, there are a huge range of ways to contribute to the project without needing to write code or spending days working on something.
For ideas on starting to contribute to FlightGear, you may want to check out: Volunteer.
To learn more about how the project works, please see this short essay
written by Thorsten.
Call for volunteers